Photos and Links
June 16-29, 2006
December 16, 2004 -January 1, 2005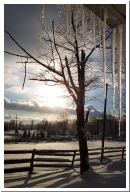 November 20, 2004
The Nethercutt Museum - Sylmar, California
July 2, 2004
The Huntington Gardens Free Day
June 26, 2004
A Visit to the Angeles National Forest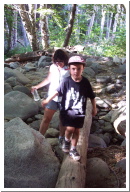 June 6, 2004
Metro Gold Line Trip to the Slim Gauge Guild Open House
June 5, 2004
Click for full photo gallery!
May 2004
Signing in Rancho Santa Margarita
Our reading in the Rancho Santa Margarita Borders turned into a real family affair with the arrival of contributor Morrey McElroy's mother and sisters-in-law. How fun it was to get to rave over someone's work to people who were truly supportive of the arts.
It was also nice to see Nancy, Elliot and Juliana Lefko who turned the long drive into a spontaneous overnight trip and Shar and Rick Gundzik who made time in their way-too-busy schedule to catch the show. The Rancho Santa Margarita store was a great place to host a reading. They had us set up right in front of the Children's sections so some folks listened in on the sly as their kids flipped through picture books. Others stopped in before the presentation to say they're so busy "juggling" their kids, careers and marriages they couldn't stay for the reading. But they did buy books!
TRC Publication Party, reading and signing
Just a few pictures of Joe and some friends at the festival
December 20003
Sicily Pictures Now Online
After much selection and deselection, a collection of photos from our recent trip to Sicily are now online. I have endeavored to put some descriptions on the photos, but if you would like more information about a location or photo, drop me an email and I will fill in the blanks.
August 31, 2003
July 31, 2003
Sizzlin' Summer Nights at the Autry
June 28, 2003
Theodore Payne Foundation Plant Sale
April 19, 2003
Los Encinos State Historic Park Egg Hunt
April 6, 2003

March 22, 2003

March 16, 2003
Visit to the Antelope Valley California Poppy Reserve and AV Indian Museum