Rosanne and I got some time away to attend the Brewery Art Walk today on our own. This allowed for a little more exploration and attention this year. The collection of artists is eclectic, as always, with a wide variety of media represented. A few of the regulars from past years were not open this year, but a few new faces offered interesting finds.


The Brewery Art Lofts are located at 2100 Main Street, Los Angeles, not too far from downtown itself. The lofts were originally a Pabst Brewery, hence the name. There are several buildings on the property, all with different loft layouts. Some units are at ground level, with large main floors and an upper mezzanine. Other lofts are literally carved out of the old brewery fermentation cooler and store rooms. Dark and winding passages lead this way and that and you suddenly find yourself in someone's kitchen, with their art displayed throughout their home.

Some lofts are complete residences, while others are strictly work or office space. Despite the size of the Brewery site and the lofts themselves, this is a very intimate pace to view art, in some cases, stepping into the owner 's bedroom.

The lofts


Linda Lundell - Extraordinary nature paintings

Lundell paintings made an immediate impact when we walked into her loft. She has several large scale paintings of forest scenes that Rosanne and I would LOVE to have. Pictures are available on the web site.


Claudia Endler Designs - Jewelry

This jewelry is simple and yet quite elegant. You can view a number of her designs on her web site. Her motto is "A Simple Line can define space, give shape and form and indicate movement. A simple line can even change the expression on someone's face."


Alex in Welderland - sculpture-furniture small-oddities


NeoAmish Seating> - from superhappybunny.com


Friction-fit seating you put together yourself.


MLA Gallery - Masters of Latin America

Sorry, no web link for this gallery, but it contains a wonderful collection of Latin American art. There was some wonderful work by artists you might, or might not, be familiar with.


2020 North Main Street #239, Los Angeles, California 90031 -- 323-222-3400

BookFinger at the Brewery


A nice edition to the Brewery complex. Bookfinger has a mid-sized collection of out of print books. I had to drag Rosanne out of here so we could see more lofts. (SMILE)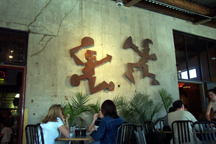 Finally, a great place to have lunch. Barbara's is an eclectic bistro in the heart of the Brewery complex. They were also serving a variety of catered found in the main plaza during the art walk, but we opted for a sit down dinner. I had the fish and chips and found them delightful. Rosanne had the tri-tip sandwich. Barbara's offers a host of other dishes, including pasta, salads and sandwiches.

There were several other lofts worth mentioning, but they don't have web sites, yet. You will just have to visit during the next art walk and see them for yourself.