Brewery Artwalk 2007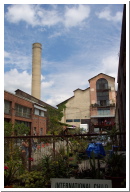 On Saturday, I attended the Brewery Artwalk near downtown LA. I make a point of going whenever I can, as being exposed to all the different types of art can really gives your thinking a boost.
I spent an extremely enjoyable 2 hours (I had to be back in the Valley for a Little League Game) wandering from loft-to-loft. As I have said in the past, viewing the lofts themselves is just as interesting as the art work. A word of warning - it might just get you thinking about trying to find a loft of your own. I love the open spaces of a loft. They seem to be filled with so much possibility.
Below is a list of most of the artists I saw during my time at the Artwalk. Some have web links and some do not, which I still find a bit odd in today's connected world. You would think that having samples of your work and your information easily available would be one of the first items on your agenda.
Brewery Artwalk artists:
The Whole 9
JJM Handcrafted - Joanna J. Stein
Doglight Studios - Ronald Dunlap
Bruce Gray
Scott Miller
Iva Hladis
Olga Eysymentt - Botanical Illustration
Victoria J. Sebanz
Found Fables - Darrah Danielle
Hip Cooks - Monika Reti - Cooking Classes
Gallery 618E
Hix Art Studio
FireBagz
Kevin Flint
Abram Santa Cruz
Suzanne Pratt
Lea
Ryan Patterson Photography
Lizvett Corral
axelhoney - Melissa A Contreras
MLA Gallery - Mark Schneider - Art Dealer
RETIMADE Jewelry - Andi Reti
James Hill Sculpture
Billy Hix - Paintings
Linda Lundell
andlab - sunook park
Amy Lynn
Collaborative Press
Topanga Canyon Gallery
Shawn Holland
Winifred Johnson Brewer
Alex in Welderland
Gloria Longval
Claudia Endler
Art Your World - Ted Meyer
Adam Kurtzman
John Zarcone
Dave Lefner
Joyce Dallal
Puss in Bootz - Jillian Suzanne
O Studioworks
Christine Moria
Telemachus Studios
Antrese Wood
Technorati Tags:
california
,
build
,
make
,
creativity
,
events
,
losangeles
,
free
,
sketch
,
art
,
drawing
,
pencil
,
pen
,
urban
,
photo
,
photography
,
ceramics
,
pottery
,
gallery